DEADLY YARNS
Year: 2004
Classification: Exempt - Ronin Recommends: G
Runtime: 40 min
Produced In: Australia
Directed By: various
Produced By: various
Language: English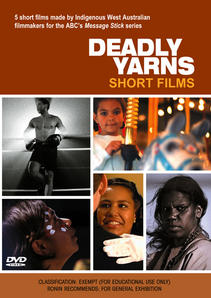 price includes GST and postage

BROKEN BONDS [5:45]
Director: Ashley Sillifant | Producer: Jessica Woodland
Sometimes the wisdom to endure and succeed must be found within. A child's response to domestic violence.
---
DON'T SAY SORRY [6:24]
Directors: Paul Roberts & Christine Jacobs | Producer: Paul Roberts
Christine Jacobs describes how she triumphed over the abuse and shame she suffered as a stolen child.
---
GANGGU MAMA [11:45]
Director: Mark Howett | Producer: Belinda Kelsall
"Ganggu Mama" is the Wadjarri term for Uncle Daddy. The story follows the journey of Dave, a skilled didge maker and musician, and his nephew Jackson.
---
MISS COOLBAROO [8:19]
Director: Michelle White | Producer: Paul Roberts
Monica Jones returns to the Government House Ballroom, where she was belle of the ball fifty years before.
---
SUGAR BAG [8:12]
Director: Gary Cooper | Producer: Robyn Marais
70-year-old Laurel Cooper tells of her childhood experience, when her parents resolved the dilemma of keeping their family together in the face of Australian government policy of removing fair-skinned Aboriginal children.
---
Follow links to other DEADLY YARNS series:
DEADLY YARNS 2
DEADLY YARNS 3
DEADLY YARNS 4
or buy the complete package - BUY 3 GET 1 FREE - www.roninfilms.com.au/video/819/20/2415.html
Permalink: https://www.roninfilms.com.au/feature/527