RINGBALIN - BREAKING THE DROUGHT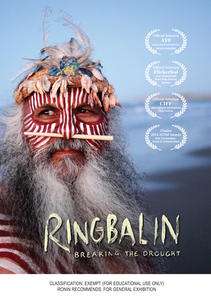 price includes GST and postage

A powerful documentary about the healing of Australia's greatest river and its diverse peoples through ancient ceremony of culture and spirit. This is a story that started in 2010 with the Murrundi Ruwe Pangari Ringbalin, a ceremony to save the Murray Darling Rivers from a decade of drought.
Back then farms were failing, people were losing hope, cities were running out of water, and the rivers and the Coorong were dying. Uncle Major Sumner knew that the traditional owners had to do something. He joined with other traditional owners to perform the Ringbalin, travelling down the river from Queensland to the Southern Ocean, doing ceremony every night, singing the spirit back into the river, and into themselves.
Ringbalins are old, something that had been done for tens of thousands of years. Then the tribes were stopped from doing it for 200 years, but when the whole nation needed a change they decided to start again. And that year, during the first Ringbalin, we all witnessed an amazing thing. As the different tribes danced, the weather started to change, and the rains began to fall. It took two weeks of dancing and travelling but by the time they reached the Coorong and the Murray Mouth the drought was broken.
What followed that year, and the next, was a flood; the most rainfall in Australia's recorded history. People say it was always going to rain sometime, and of course it was, but the fact is that after a decade of drought it just started to rain when they danced. In the tribes and for many people along the river, it seemed that that was a gift from the ancestors.
---
OFFICIAL SELECTION - Adelaide Film Festival, World Premiere
OFFICIAL SELECTION - Flickerfest, 23rd International Short Film Festival, Sydney
OFFICIAL SELECTION - 18th Canberra International Film Festival
FINALIST - 2014 ATOM Awards - Best Documentary Social and Political Issues
Permalink: https://www.roninfilms.com.au/feature/11373