COOL DRINK AND CULTURE [from the CAAMA Collection]
Year: 2006
Classification: Exempt - Ronin Recommends: G
Runtime: 22 min
Produced In: Australia
Directed By: Sonja Dare
Produced By: Sonja Dare
Language: Luritja language, English subtitles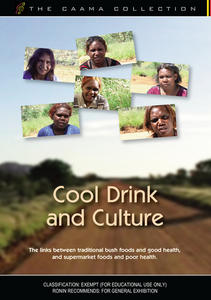 price includes GST and postage

In the Aboriginal community of Mt Liebig, about 300km west of Alice Springs, a group of young women talk about the importance of bush food in their culture and its relationship to good health. In contrast, they associate sickness with "takeaway shop food" and describe Alice Springs as a "takeaway town: takeaway food, takeaway grog and takeaway sickness".
The women visit the nearby Irantji waterhole with a group of children to teach them how to find and prepare bush foods – bush bananas, bush berries, witchetty grubs, wild honey, and kangaroo. The foods are not only more healthy but are also integrally linked to their own culture and quality of life.
Through their personal experiences, the women of Mt Liebig provide insight into the gentle ebb and flow of their community life and the effect that outside influences have on their existence.
---
Featuring: Janelle Eggley, Janicestine Gorey, Melinda Major, Vivianne Minor, Evelyn Morgan and Rachel Stockman
Writer-Director - Sonja Dare
Photography - Sonja Dare
Sound recording - Robyn Nardoo
Editor - Dena Curtis
Translations - Janicestine Gorey and Janelle Eggley
Production manager - Trisha Morton-Thomas
Series producer - Barbara Clifford
Executive producer - Rachel Clements
Permalink: https://www.roninfilms.com.au/feature/3324