ANIMATED
Year: 1989
Classification: G
Runtime: 80 min
Produced In: Australia
Directed By: Craig Monahan
Produced By: Craig Monahan
Language: English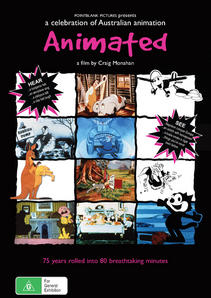 price includes GST and postage

An off-the-wall, engagingly funny, slightly serious and brilliantly assembled collection of the maddest moments of Australia's unsung film art. It features everyone and everything from Felix the Cat to Bertie the Aeroplane, King Billy to Willie Wombat, Louie the Fly to Dot and the Kangaroo, INXS to Crowded House, the experimental to the narrative and much more besides.
From the politics of the day to the computer graphics of tomorrow, via the rock clips of the present, this is a magical selection of work designed to celebrate Australia's contribution to this most unique of film arts.
Featuring the work of Bruce Petty, Eric Porter, Alex Stitt, the Owen Brothers, Pat Sullivan, Yoram Gross, Steve French, Bruce Currie, Harry Julius and many more. Special appearances by Ken G. Hall and Bill Collins.
Permalink: https://www.roninfilms.com.au/feature/726