BEYOND EL ROCCO
Year: 1990
Classification: PG
Runtime: 100 min
Produced In: Australia
Directed By: Kevin Lucas
Produced By: Aanya Whitehead, Kevin Lucas
Language: English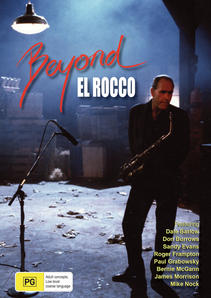 price includes GST and postage

In the 1950s, Australian youth culture was just starting to turn onto the American trends - while rock 'n' roll grabbed the masses, modern jazz was infiltrating the fringe.
Well-known Australian actor Tony Barry plays Zoot Finster, the ageing hipster and timeless jazz fan who steps out of his 'FJ Birdmobile' in search of the story of the Australian modern jazz movement since the 1950s, when the earliest murmurings were heard emerging from subterranean venues tucked away in shadowy corners of Sydney's Kings Cross. With Zoot we journey through many of these exotic, bohemian cafes of the 1950s, where cool jazz hipsters explored some new and very way-out sounds, through to performances and interviews with today's jazz greats: Bernie McGann, Don Burrows, Paul Grabowsky and James Morrison, to name but a few of the 70-odd musicians involved in this epic project.
Zoot's passion for the music leads us to some very memorable performances that bear witness to the modern jazz movement's continuing search for new means of musical expression. We explore the impact of this musical movement on a burgeoning post-war culture, emerging from its repressive suburban conservatism and racing for the headier times of the psychedelic 1960s and idealistic, rock-orientated 1970s. We are introduced to some brilliant and often very rare performance footage, including 1950s newsreel footage of Melbourne pioneers Brian Brown, Stewie Speers, Dave Tolley, Barry Buckley and Keith Hounslow playing at the irrepressible Horst Leipold's Jazz Centre 44 Club.
"BEYOND EL ROCCO is remarkable because it is the first film which attempts to catalogue the impressive breadth and quality of Australian jazz music over the past 40 years." - The Australian.
"A very telling picture of Australia coming-of-age in the post war era." - The Sunday Herald [Melbourne].
Permalink: https://www.roninfilms.com.au/feature/694