Fiona Cochrane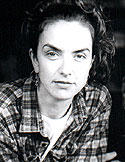 Fiona Cochrane graduated from Monash medical school before following her passion - film. She took courses and worked on film crews, learning her trade as continuity person, first assistant director and production manager before taking on roles as director and producer.

With a young child to look after she found it easier to work as a producer, and has produced low-budget independent Australian feature films such as Holidays on the River Yarra (1991) which was selected for the 'Un Certain Regard' Section of Cannes Film Festival, and Nirvana Street Murder (1990) as well as numerous documentaries and short films.
Her main interest has always been directing and more recently she has been trying to primarily direct (or direct and produce) both on dramas and on documentaries. In 2007 she completed a feature-length intimate observational documentary called Rachel: A Perfect Life which premiered at the Sydney Film Festival, and in 2008 she has completed and ultra low-budget feature film called Four of a Kind which premiered at the Montreal World Film Festival. All of her earlier films have screened internationally at numerous festivals and won an array of awards.
Follow this link for complete biography and filmography: www.innersense.com.au/mif/cochrane.html
Filmography
| | |
| --- | --- |
| | The award-winning architect Rex Addison and his wife, the writer Susan Addison, describe the genesis of the homes they have created for themselves and their children... |