WHEN MRS HEGARTY COMES TO JAPAN
Year: 1992
Classification: PG
Runtime: 59 min
Produced In: Australia
Directed By: Yuka Sekiguchi
Produced By: Yuka Sekiguchi
Language: Japanese and English dialogue, English subtitles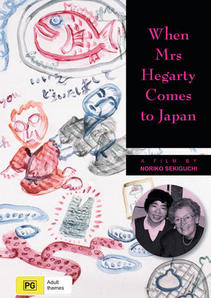 price includes GST and postage

A penetrating examination of cross cultural existence and exchange, filled with quirky juxtapositions, generational gaps, and diverse outlooks on life - sometimes hilarious, sometimes sobering.
---
In 1981, Yuki [Noriko] Sekiguchi went to Australia to study International Relations. She spoke little English, but quickly befriended Joyce and Jack Hegarty, who became her 'second parents'.
While close, Noriko sensed in Jack a buried resentment towards her, perhaps due to his experience fighting Japanese in World War II. Jack died in 1988 with this issue unresolved. Now retired and widowed, Mrs Hegarty lives alone in a Sydney western suburb. She is a devout Catholic and bowls at Ashfield Lawn Bowling Club. Mrs Hegarty expressed a desire to visit Japan and Yuki saw this as an opportunity to right some wrongs. In appreciation of Mrs Hegarty's hospitality, the natural parents of her 'adopted Japanese daughter' agreed to host Mrs Hegarty in their Yokohama home for three weeks.