FOUNDATION, The (NIDF series 5)
Year: 2002
Classification: Exempt - Ronin Recommends: G
Runtime: 26 min
Produced In: Australia
Directed By: Troy Russell
Produced By: Penny McDonald
Language: English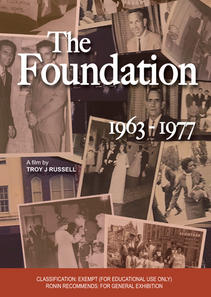 price includes GST and postage

A documentary that intercuts interviews with historical footage to tell the history of The Foundation of Aboriginal Affairs, an organisation significant in the push for the 1967 referendum in which Aboriginal peoples were given the vote.
Imagine you are Black in the 1960s. You've come from the bush to find work in Sydney. You don't know anyone and you've got nowhere to stay.
Sydney is an overwhelming white place. That's when The Foundation for Aboriginal Affairs emerged and it became a pivotal place for Kooris.
Featuring interviews with Gary Foley, Chicka Dixon, Roy Carroll, Joyce Clague, Esther Carroll and Eileen Perkins, this documentary traces The Foundation as it supported Kooris in helping themselves. Some extraordinary people pulled together in saying that the conditions for Blacks weren't good enough and acted on their convictions.
The Foundation became a springboard for Kooris' social and political activities of the 1960s and 1970s that brought Black issues to the attention of all Australians.
This is a powerful and affirming documentation of Indigenous history.
This film is a part of the 'National Indigenous Documentary Fund Series 5'. Other titles in this series are: NGANGKARI, WE OF LITTLE VOICE, ME & YOU and BIG GIRLS DON'T CRY (all available from Ronin Films).
Directed by Troy J, Russell
Produced by Penelope McDonald
Associate producer – Melissa Abraham
Supervising Director – Penelope McDonald
Mentor Director – Michael Riley
Editor – Fiona Strain
Writers – Troy J, Russell, Melissa Abraham
Cinematographer – Roman Baska
Production Manager – Vanessa Sulman
Script Editor – Chris Noonan
Composer – Jeff Dunn
Executive Producer - Cathy Eatock
Produced by Chilli Films
Produced in association with SBS Independent
Produced in association with the Indigenous Unit, Aust Film Commission
Produced in association with the New South Wales Film & TV Office
Produced with finance and assistance from the Aboriginal and Torres Strait Islander Commission