NGANGKARI (NIDF series 5)
Year: 2002
Classification: Exempt - Ronin Recommends: G
Runtime: 26 min
Produced In: Australia
Directed By: Erica Glynn
Produced By: Will Rogers
Language: English and Anangu Pitjantjatjara languages with English subtitles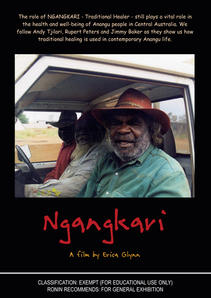 price includes GST and postage

The role of Ngangkari, Traditional Healer, still plays a vital role in the health and well-being of the Anangu people of Central Australia. Yet only two Ngangkari are employed in full-time positions. This film introduces these two renowned Ngangkari specialists.
Andy Tjilari and Rupert Peters show how they, as employees of the Ngaanyatjarra Pitjantjatara Yankunytjatjara Women's Council, go about using traditional healing methods in contemporary Anangu life.
As Andy and Rupert travel the dirt roads of the vast central western desert, we learn about how their ancient skills were passed down to them. They discuss the different ways they received their powers and tell remarkable stories related to their lives as Ngangkari. We witness the hands-on healing of Anangu as they talk about the Ngangkari's connection to the spirit world and the age-old healing beliefs of the Pitjanjatara people.
We witness both Andy and Rupert going about their healing practices and explaining how Ngangkari need none of the tools of whitefella medicine to bring about good health and well-being. The Ngangkari explain how, as healers, they are given a responsibility to their people.
They tell us of the enormous difficulties and health problems facing Anangu in their communities and that the evil spirits that cause addictions like petrol sniffing and alcoholism are so malevolent that Ngangkari cannot conquer them.
We see Andy and Rupert dealing with their sense of despair and helplessness through their enormous capacity to persevere. With warmth and humour, we get to know two very special men.
Written and directed by ERICA GLYNN
Director of Photography – WARWICK THORNTON
Editor – KAREN JOHNSON
Producer – WILL ROGERS
Executive Producer – CATHY EATOCK