WARREN WILLIAMS - The Stories, The Songs [from the CAAMA Collection]
Year: 2000
Classification: Exempt - Ronin Recommends: G
Runtime: 24 min
Produced In: Australia
Directed By: Chris Tangey
Produced By: Chris Tangey
Language: English and Arrernte language [English subtitles]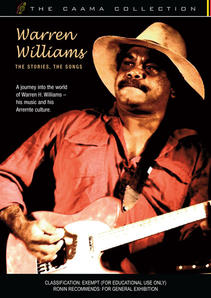 price includes GST and postage

This portrait of singer-songwriter, Warren H. Williams, expresses his close ties with his Arrernte culture, the source of his inspiration. Born in Hermannsburg to a musical family, Warren engaged with music from an early age, absorbing both traditional culture and the music of the white man's church.
Warren is seen making music with Ted Egan, John Williamson, and others, giving musical expression to his concern to keep his Arrernte culture alive through language and song, and to take it to a wide audience.
His famous singer-songwriter father, Ntjalka (Gus) Williams, also appears in the film, singing his own songs. For both father and son, country music is an important vehicle for their stories and the basis of their professional careers, even though they were originally discouraged by the white man's church which frowned upon their style of music.
In addition to his music, Warren also has responsibilities as chairman of the Tnorala (Gosses Bluff) land trust, and talks with senior custodian, Mavis Malbunka, about the importance of traditional culture in the area, and the need to preserve that culture while opening up the area for tourists.
---
Director, Photographer, Sound Recordist - CHRIS TANGEY
Editor - DAVID HAYES-MARSHALL
Executive Producer - CILLA COLLINS
Production Manager - JACQUI BETHEL
Production Assistant - DENA CURTIS
English and Arrernte language [English subtitles]