WAYS OF THINKING
Year: 1990
Classification: G
Runtime: 29 min
Produced In: Australia
Directed By: Janice Digby Duncan
Produced By: Janice Digby Duncan
Language: Warlpiri dialogue, English subtitles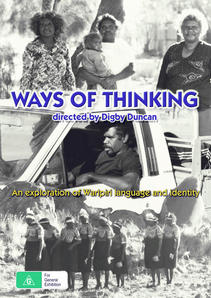 price includes GST and postage

In a remote central Australian Aboriginal community, a young Warlpiri couple are in conflict.
Jean Napanangka is happy living and working in the community. Alan Jungarrayi, her husband, wants to move with the family to the nearest town in the hope of finding work. Jean fears that if they leave, she will not be able to perform her tribal obligations and the children will lose their language and grow up 'with too much western ways and thoughts' - thus losing their Warlpiri identity and their place in the world.
The film explores this dilemma and how it is dealt with inside the community. The intricacies and importance of the skin system and how it dictates behaviour are explained as well as how an ancient language and culture create a unique reality.
The community works at controlling the fate of its heritage and language not only by the performance of ancient rituals but also by the use of modern technology. They have set up a Media Association to produce educational videos and a local news program. They participate in the school system by teaching in the Warlpiri language. They work in the Literacy Centre transcribing and translating the stories of their Dreamings into Warlpiri and English.
WAYS OF THINKING is a timely contribution to one of the major social concerns in Aboriginal Australia today. The film was made to accentuate, for non-Aboriginal Australians, the efforts of a Warlpiri community in their quest to retain their culture. This adds to the diversity of Australian culture generally and can be of benefit to all Australians.
Writer, director, producer Janice Digby Duncan
Cinematographer Philip Bull
Sound recordist Pat Fiske
Production co-ordinator Penelope McDonald
Editor Denise Haslem
Music Jim Conway, Colin Watson
Related files