PROFESSOR WILL STEFFEN: Lecture on Climate Change
Year: 2011
Classification: Exempt - Ronin Recommends: G
Runtime: 59 min
Produced In: Australia
Produced By: Kathryn Kelly
Language: English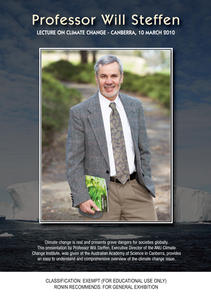 price includes GST and postage

Climate change is real and presents grave dangers for societies globally. This presentation by Professor Will Steffen, Executive Director of the ANU Climate Change Institute, given at the Australian Academy of Science in Canberra on 10 March 2010, provides an easy to understand and comprehensive overview of the climate change issue.
Professor Will Steffen, in this presentation, provides a comprehensive overview of the climate change challenge. He provides data in relation to global average temperature rise, heat waves and fire frequency, sea ice loss, melting of ice sheets and sea level rise, health impacts such as the spread of dengue fever and emission trajectories.
Professor Steffen explains how in the future, while you may be able to have your coffee in the second level of the Brisbane airport terminal, your plane won't be able to come in or take off, because with a 1 metre sea level rise, the runways will be under water.
He also addresses the resistance to acceptance of the problem of climate change and answers questions from the audience, for example, on food production, land management and the influence of sunspot cycles on climate.
Professor Will Steffen is Executive Director of the ANU Climate Change Institute at the Australian National University (ANU), Canberra, and serves on the Australian Government's Multi-Party Climate Change Committee (MPCCC) and as a Climate Commissioner. He is also Co-Director of the Canberra Urban and Regional Futures (CURF) initiative, a joint venture of ANU and the University of Canberra. From 1998 to mid-2004, Professor Steffen served as Executive Director of the International Geosphere-Biosphere Programme, based in Stockholm, Sweden. His research spans a broad range within the fields of climate change and Earth System science, with an emphasis on the incorporation of human processes in Earth System modelling and analysis; and on sustainability and climate change, with a focus on urban systems.