ORIGINAL MERMAID, THE
Year: 2003
Classification: Exempt - Ronin Recommends: G
Runtime: 52 min
Produced In: Australia
Directed By: Michael Cordell
Produced By: Ian Collie
Language: English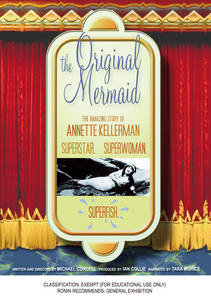 price includes GST and postage

From crippled child to the star of the biggest theatres in the world, the story of Annette Kellerman is truly without peer. Along the way she changed the face of swimming, fashion and dance and helped forge a new identity for women.
Annette Kellerman (1887 - 1975) was an Australian who became one of the most famous women of her day around the world, but who is now largely forgotten by history.
She conquered rickets as a child by learning to swim, and then kept on going, becoming a champion swimmer, and a star of vaudeville and silent cinema. Although she never made a feature film in Australia, she became a major Hollywood star in epics such as DAUGHTER OF THE GODS (1916) - a highly successful extravaganza that helped to make her a legend internationally as "The Diving Venus". As a long distance swimmer, diving sensation and underwater ballet performer, she was unrivalled. Her innovative underwater ballet act inspired the sport of synchronised swimming, and she had a crucial role in the evolution of women's swimwear. She also found time to write a series of books on health, beauty and physical fitness, pioneering a wholesome philosophy that was a precursor to many modern health movements. Along the way, Kellerman helped forge a new identity and sense of possibility for women around the world.
In 1952, her life story became the subject of a Hollywood movie, MILLION DOLLAR MERMAID, in which Annette was played by Esther Williams.
This documentary portrait includes some of the wealth of archival film footage and photographs documenting Kellerman's many milestones. It also includes scenes from her silent films. Excerpts are also included from MILLION DOLLAR MERMAID, and the film features an interview with Esther Williams, a star whose career was greatly influenced by Kellerman.
WINNER! 2003 Film Critics Circle Award - Best Documentary
AFI nominations - Best Documentary and Best Editor
Official Selection - Sydney and Melbourne International Film Festivals
Related files