CHASING GOD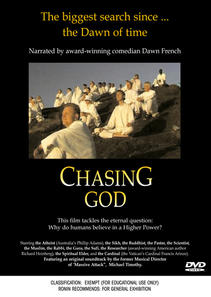 price includes GST and postage

The biggest search since ... the Dawn of time!
Narrated by award-winning comedian Dawn French
This film tackles the eternal question: Why do humans believe in a Higher Power?
Starring the Atheist (Australia's Phillip Adams), the Sikh, the Buddhist, the Pastor, the Scientist, the Muslim, the Rabbi, the Guru, the Sufi, the Researcher (award-winning American author Richard Heinberg), the Spiritual Elder, and the Cardinal (the Vatican's Cardinal Francis Arinze). Featuring an original soundtrack by the former Musical Director of 'Massive Attack', Michael Timothy.
Humanity is being threatened, especially by war. In times of extreme upheaval, people seek solace in a Higher Power. Well over three quarters of the world's population does. Could they be wrong? And if they're right, who is this Higher Power?
IS THIS BEING A BEARDED OLD MAN
OR A SPARK OF LIGHT?
WITHIN US OR OUTSIDE OF US?
THE ONE OR THE MANY?
AN EMOTION OR AN ENTITY?
A BEGINNING OR AN END?
SOMEONE TO LOVE OR TO FEAR?
CHASING GOD takes us on an enlightening journey to: the Vatican & the Ganges, The Wailing Wall & The Dome of the Rock Mosque, The Golden Temple & the Dalai Lama Temple in the Himalayas. Followed by daring and provocative scenes of a world out of balance.
First time filmmakers Dylan Burton (New Zealand) and Lenny de Vries (Holland) set out on a worldwide quest to discover a paradoxically unifying principle that may well lie beyond the divisive interpretations of God.
Related files