SCRIBE, THE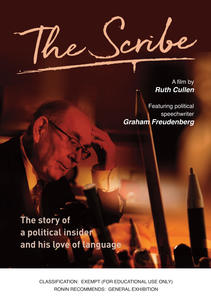 price includes GST and postage

Director's Cut (including approx. 16 minutes not seen on TV)
FINALIST! 2019 ATOM AWARDS - Best Documentary: Social & Political Issues
From deep within the engine room of politics comes this superb documentary on the "Donald Bradman" of speech-writers - Graham Freudenberg: a powerful journey into one of the great minds of politics whose words shaped our fortunes whether we know it or not.
Graham has written speeches for ALP leaders from Arthur Calwell, to Simon Crean. This group includes Gough Whitlam, Neville Wran, Bob Carr and Bob Hawke, who described him as the "chameleon" of speech writers. Over 50 years he's adapted his voice to that of his masters and the times.
The Scribe interrogates the symbiotic relationship between the speechwriter and the orator as it explores the craft of political speech writing from the man who re-defined the role in Australia. In the process, it examines the changing language of the political environment from the introduction of TV to the arrival of Trump. This is not a bio-pic or a chronology of events, rather it is a cherry pick of the last 50 years from a behind-the-scenes man who was right at the epicentre of the action.
In this time of widespread cynicism about politicians it is time to step back and ask bigger questions. The Scribe transcends party politics to reflect on the contract between the people and their elected representatives.
VIEW TRAILER HERE: vimeo.com/344716660
"An absorbing and profound insight into the life and role of a political speechwriter."
- John Warhurst, Emeritus Professor, School of Politics and International Relations, Australian National University
Director, producer, writer Ruth Cullen
Cinematographer Simon Smith
Editor Andrea Lang
Music composed by Kristin Rule, Jonathan Zwartz
© GoGo Yolt Pty Ltd 2018
Related files