INNOCENCE BETRAYED
Year: 2014
Classification: Exempt - Ronin Recommends: PG
Runtime: 52 min
Produced In: Australia
Directed By: Larissa Behrendt
Produced By: Fabio Cavadini
Language: Engish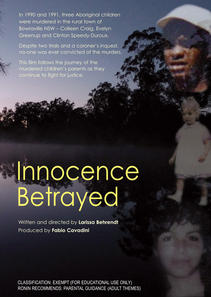 price includes GST and postage

Innocence Betrayed follows the parents of three murdered Aboriginal children and the highs and lows of their 23 year long fight for justice. Aunty Muriel, Aunty Rebecca and Uncle Thomas share their tragic stories of loss, which happened in the small NSW town of Bowraville within a five-month period in the early 1990s.
There was only ever been one suspect - a white man who was brought to trial for the murder of two of the children but never convicted. He has always maintained his innocence.
The documentary is written, directed and narrated by the case's former lawyer, Larissa Behrendt, whose continued passionate dedication to the case has led her on a journey in search of the truth and justice for the families involved. Behrendt is a Eualeyai and Gamillaroi woman, a lawyer, Indigenous advocate and an award winning writer and filmmaker, and graduate of the Australian Film Television and Radio School.
Behrendt's documentary explores the actions of the legal system and the impact of these on the families' fight for justice.
In addition to the family, friends and Bowraville community, the documentary also features in-depth interviews with Detective Inspector Gary Jubelin, who has fought side by side with the victim's families since 1997. Jubelin believes that the families were let down by the system and that the unsolved case should have been closed 24 years ago.
INNOCENCE BETRAYED is the story of the most disadvantaged people taking on a legal system that has let them down. On the eve of a decision about reordering a trial based on new evidence, this documentary is an intimate look at the families' long fight for justice and the restoration of their community.
Related files