REDFERN STORY, THE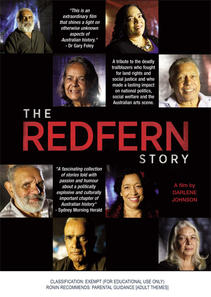 price includes GST and postage

WINNER! BEST DOCUMENTARY (Social and Political Issues), 2015 ATOM AWARDS.
"This is an extraordinary film that shines a light on otherwise unknown aspects of Australian history. As such it should be an important inclusion in the education curriculum in all schools and universities throughout Australia."
- Dr Gary Foley
---
A tribute to the deadly trailblazers who fought for land rights and social justice and who made a lasting impact on national politics, social welfare and the Australian arts scene.
In the late 1960s and early 1970s, the Sydney suburb of Redfern became home to over 20,000 Aboriginal people. With the gradual revoking of the reserve system in New South Wales, Aboriginal people drifted to the city looking for friends, family and work. Redfern, then a run down slum where only the poorest people lived, was the cheapest and therefore most affordable place for these displaced country people to find refuge. It was soon overcrowded: poverty, illiteracy and alcohol provoked anti social behaviour and conflict arose between the new inhabitants and the police.
In 1967 the overwhelming "yes" vote in the Referendum gave Aboriginal people hope that their plight would be recognised and help provided. A few brave pioneers, like Faith Bandler and Kath Walker (Oodgeroo Noonucle) worked hard to raise awareness of the cause. However, in reality little changed.
Then, in 1971, something happened which marked the beginning of the fight for equal rights and equal opportunities for Australia's first people. A small group of untrained, but passionate and talented activists came together and formed The National Black Theatre which became a focal point for activism until it closed in 1977.
The Redfern Story documents the efforts made through activism and theatre to bring the cause of indigenous people to public notice, as a first step towards gaining land rights and better treatment. With theatre, dance and song as powerful political tools, Redfern became a thriving and vibrant melting pot of politics, art and creativity.
The filmmaker, Darlene Johnson lived in Redfern as a small child in the 1970s. Her mother was part of the arts and activist scene, and Darlene often sat at the table while music was played and discussions took place about Indigenous politics. The Redfern Story is her tribute to that time.
Other films by Darlene Johnson in the Ronin collection are Stolen Generations, Crocodile Dreaming, River of no Return, and Gulpilil – One Red Blood.
VIEW TRAILER HERE: vimeo.com/510051047
---
"A fascinating collection of stories told with passion and humour about a politically explosive and culturally important chapter of Australian history" - Sydney Morning Herald.
---
With: Lester Bostock, Gerry Bostock, Bryan Brown, Aileen Louise Corpus, Lillian Crombie, Max Cullen, Ernie Dingo, Dr Gary Foley, Prof Marcia Langton, Rachael Maza, Lisa Maza, Bronwyn Penrith and Bindi Williams.
Written and Directed by Darlene Johnson
Produced by Sue Milliken and Darlene Johnson for Samson Productions Pty Ltd
Photography by Simon Smith
Edited by Deb Prince
Music by Adam Moses and Guy Gross
Production Manager Sandra Alexander
Archival research Alec Morgan
Post Production Soundfirm Australia
Produced in association with the Australian Broadcasting Corporation, Dena Curtis, Commissioning Editor. Financed with the assistance of the Indigenous Department of Screen Australia.
Related files