Ronin Latest News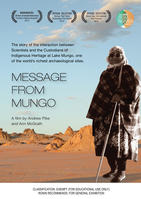 MESSAGE FROM MUNGO in the Finals of the 2014 ATOM Awards
Our own production, MESSAGE FROM MUNGO, co-directed by Ronin's Andrew Pike with Prof Ann McGrath from the ANU's Centre for Indigenous History, has reached the finals in the 2014 ATOM Awards!
More Latest News:
Clip: LAST STAND AT NYMBOIDA
The remarkable story of a worker rebellion that made international history. Bonus 35 minute extra feature includes interviews with ANDREW VICKERS, General Secretary, CFMEU Mining & Energy Chairman, Mineworkers Trust, and ALAN MURRAY, mining historian and author.