SONGS FOR KATE
Year: 2013
Classification: Exempt - Ronin Recommends: PG
Runtime: 50 min
Produced In: Australia
Directed By: Tracy Sorenson
Produced By: Tracy Sorenson
Language: English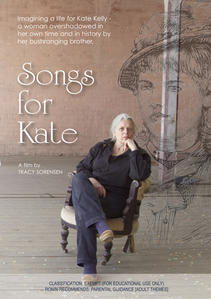 price includes GST and postage

SONGS FOR KATE is a documentary following the writing and staging of a chamber opera about the short, tragic life of Kate, sister of bushranger Ned Kelly.
Made by Bathurst filmmaker Tracy Sorensen, the documentary focuses on efforts by writer Merrill Findlay to create and stage a chamber opera about Kate's last days. Merrill's vision is to stage The Kate Kelly Song Cycle on the banks of the Forbes lagoon from which Kate's body was dragged in 1898, when she was just 36 years old. The cause of her death - suicide, accident or foul play - remains a mystery.
Merrill Findlay, author of the critically acclaimed novel Republic of Women (UQP 1999) grew up on a farm just outside of Forbes in the central west of New South Wales. The documentary follows Merrill as she collaborates with composer Ross Carey to write the song cycle and then tries to persuade the town of Forbes to get behind her ambitious, high-art project.
Along the way, Merrill battles treatment for cancer, a shortage of money to pay for performers and staging, and the difficulties of working with enthusiastic but inexperienced volunteers and choristers.
The storyline in Merrill's opera is based on a piece of historical evidence she uncovered in an 1898 edition of the Forbes and Parkes Gazette. A tiny court report - just a centimetre of print - reveals that a few months before Kate died her husband, William "Bricky" Foster, had been charged five pounds, four shillings and ten pence in lieu of three months in jail for what we would now call domestic violence.
In an interview in the documentary, Merrill explains that Bricky Foster, who had been living and working as a horse tailer out of town, returned to his wife the night before Kate disappeared. "If an inquest were done today, the husband would be, if not the prime suspect, at least a person of great interest to the police. But of course none of that was questioned in the inquest in 1898." In the song cycle, we meet Bricky as an old man, now sorry for his treatment of Kate. The other four songs in the cycle are in the voices of local Chinese grocer Quang Lee and Kate herself.
Forbes, in farming country in the central west of New South Wales, has a thriving country music scene and an affection for folk ballads. But Merrill's conviction that she will find supporters and an audience for an hour of "difficult" new music never wavers.
"I think the repertoire is quite narrow out here," says Merrill in the documentary. "And I find a lot of it is settler nationalist sort of stuff that is blokey, that tells stories about a very narrow section of the population, that represents a white masculinist perspective."
Filming and editing of the documentary took place over a two-year period from 2011 to 2013, scheduled around the busy lives of all those involved. The project was entirely unfunded, relying on contributions from students and volunteers: a laboUr of love, just as was the song cycle itself.
The Kate Kelly Song Cycle, with music by Ross Carey and libretto by Merrill Findlay, was the keynote performance of the inaugural Kalari-Lachlan River Arts festival in Forbes in September 2011. It was sung by Melbourne-based soprano Sian Prior with a chamber orchestra and two community choirs. It was conducted by Orange-based music director William Moxey.
---
MEDIA RELEASE from Arts Outwest
Monday 21 September 2020
Forbes' home-grown Kate Kelly chamber opera to be performed in a major Victorian festival.
Kate Kelly, the chamber opera co-created by composer Ross James Carey and writer Merrill Findlay in Forbes a decade ago, is to be performed online for a major national opera festival.
The Gertrude Opera Company in Melbourne will perform Kate Kelly for the 2020 Yarra Valley Opera Festival in October.
The Kate Kelly Song Cycle, as the chamber opera was initially called, re-interprets the life of one of Australia's most iconic women, the youngest sister of bushranger Ned Kelly. It emerged from Merrill's Kate Kelly Project and was first performed in Forbes on September 2011, as the headline act for the inaugural Kalari-Lachlan River Arts Festival, beside the lagoon in which Kate Kelly's body was found in 1898.
A documentary of the project, Songs for Kate, was made at the time by Tracy Sorensen and is distributed by Ronin Films.
The 10-day program of the Yarra Valley Opera Festival in October is crammed with local and international treats.
Gertrude's artistic director, Linda Thompson says she is excited about her company presenting Kate Kelly.
"I looked for a piece that was an Australian woman's story and this is a little nugget," she told The Age newspaper. "The music is really exciting, [with] rollicking moments, beautiful moments."
The Yarra Valley Opera Festival performance of Kate Kelly will feature Emily Burke (soprano) as Kate, Andrew Moran (baritone) as Kate's husband Bricky Foster, and Michael Lapiña (tenor) as the grocer Quong Lee, whose aria describes Kate's life and death in Forbes.
The choral parts will be sung by an ensemble of Gertrude Opera's Young Artists. Patrick Burns is Music Director and Linda Thompson the Director.
Yarra Valley Opera Festival runs October 16-25. Kate Kelly will be streamed live from 7 pm, Saturday 24 October. More info and tickets:
www.gertrudeopera.com.au/kate-kelly-sister-of-ned
The original Kate Kelly Project was supported, in Forbes, by the Australian Government's Regional Arts Fund. The Forbes premiere of chamber opera was made possible by a generous donation from Melbourne philanthropist Julie Kantor (Annamila P/L), and further financial support from Barbara Holloway (Canberra) and Robyn Prior (Melbourne), through the Australia Business Arts Foundation.
Links:
• The Kate Kelly Project: merrillfindlay.com/ccd.../kkp-the-kate-kelly-project
• Kate Kelly Song Cycle www.roninfilms.com.au/.../10352/songs-for-kate.html
• Tickets: www.gertrudeopera.com.au/kate-kelly-sister-of-ned
The Kate Kelly Project was supported by the Australian Government's Regional Arts Fund.
Related files
Permalink: https://www.roninfilms.com.au/feature/10352