HYBRID LIFE - Disc 3 of 3
Year: 2001
Classification: Exempt - Ronin Recommends: PG
Runtime: 104 min
Produced In: Australia
Directed By: Various
Produced By: Various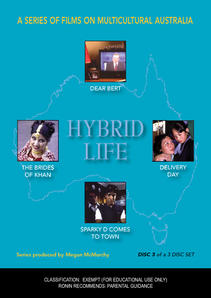 price includes GST and postage

THE BRIDES OF KHAN
Directed by Safina Uberoi.
Produced by Himman Dhamija and Safina Uberoi.
Alan Khan migrated to Australia from Bangladesh in the seventies. He came to get a pilot's license and stayed to become the king of Sydney's wedding photographers. "In Alan's waiting rooms, I met many young couples planning their weddings - Macedonian, Italian, Greek, Lebanese, Croatian, Chinese, Sri Lankan and Indian. Some were marrying people outside their cultural milieus and some were marrying within traditional boundaries. But all of them had a vision for the place of their culture in their wedding." - Safina Uberoi.
York Independent Film Festival, UK, May 19-20 2001
Docside Film Festival, Texas, October 2001
Canadian International Annual Film/Video Festival, Campbell River, October 8-13 2001
---
DEAR BERT
Directed by Christina Heristanidis.
Produced by Ben Harding.
DEAR BERT is a tale of two worlds colliding -
Greek collides with Aussie, television collides with reality. Christina questions her identity through a medium where she feels inaccurately represented. There was never anybody Greek on television when she was growing up. "I grew up Greek in Australia. My understanding of Australian culture and language was through television. My mother taught me how to read and write Greek and my father taught me about Greek religious icons. Television, in particular Bert Newton, taught me how to be an Aussie. " - Christina Heristanidis.
WINNER! United Nations Media Peace Award (2001) in the category 'Promotion of Multicultural Issues'
St Kilda Film Festival, Melbourne, May 29-June 3 2001
Finalist: Media Peace Award, United Nations Association of Australia, 'Promotion of Multicultural Issues' category, September 2001
---
DELIVERY DAY
Written by Khoa Do.
Directed by Jane Manning.
Produced by Liz Watts.
For 11-year-old Trang, it's going to be one of those days - she has to get her Vietnamese mother to attend her school's parent-teacher interview but it also happens to be delivery day for the garments in her mother's sweatshop and her mum is way too busy. DELIVERY DAY is an insight into the world of duck eggs, Toyota Celicas and outworkers, which explores both generations of the Vietnamese migrant experience through the eyes of a young girl. It is one of the few Australian dramas to depict Vietnamese Australians.
WINNER! BEST AUSTRALIAN FILM in the Shorts Competition, WOW International Film Festival, 2001
Toronto Reel Asian International Film Festival, November 23-26 2000
Clermont-Ferrand International Short Film Festival, France, January 26-February 3 2001
Krakow International Short Film Festival, Poland, May 2001
Nominated for ATOM Award (Short Fiction), Melbourne, May 2001
St Kilda Film Festival, Melbourne, May 29-June 3 2001 Winner: 'Best Achievement in an Original Screenplay'
Giffoni Film Festival, Salerno, Italy, July 14-21 2001. Selected for Competition
Brisbane International Film Festival, July 26-August 5 2001
Palm Springs International Festival of Short Films, August 7-13 2001. Winner: 'Live Action over 15 Minutes, Non-Student Category'
Sydney Asia Pacific Film Festival, 9-18 August 2001
AFI Awards, Australia, November 2001. Nominated for 'Best Screenplay in a Short Film' and 'Best Short Fiction Film'
---
SPARKY D COMES TO TOWN
Written by Kris Mrksa.
Directed by Maciek Wszelaki.
Produced by Ann Darrouzet.
A story about a young Australian raver who happens to be of Croatian background: DJ Sparky D is in town for one night only and Stretch is planning a wild night of dancing and drug-crazed debauchery. But when Stretch's dad pushes him into picking up a family friend from the airport, things start going very wrong. Stretch is late for the gig, with no drugs, an angry girlfriend and a Croatian salami smuggler in the passenger seat.
2001 AFI Award for Best Screenplay in a Short Fiction Film (Kris Mrksa)
Nominated for ATOM Award (Short Fiction), Melbourne, May 2001
St Kilda Film Festival, Melbourne, May 29-June 3 2001. Winner: 'Best Short Film', 'Best Achievement in Editing', and 'Best Achievement in Video'
Sydney Film Festival, June 8-22 2001. Winner: Dendy Award for 'Fiction Over 15 Minutes'
AFI Awards, Australia, November 2001. Nominated for 'Best Screenplay in a Short Film'
Wetfest 2001 Fed on Film Short Film Festival, Cairns, September 14-15 2001. Winner: Short Film Competition & Best Actor Award (Petra Yared)
Canberra Short Film Festival, October 12-14 2001
Raindance Film Festival, London, October 17-26 2001
Permalink: https://www.roninfilms.com.au/feature/735