FROHE OSTERN! HAPPY EASTER
Year: 2008
Classification: Exempt - Ronin Recommends: G
Runtime: 26 min
Produced In: Australia
Directed By: Anna Jeffries
Produced By: Lacey teh
Language: English + English subtitles
Website: annajeffries.com/easter/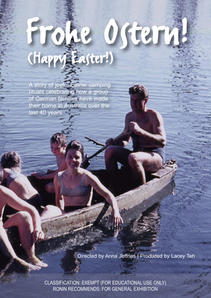 price includes GST and postage

A large group of more than 50 family and friends have camped in the same spot on Australia's Murray River every Easter for the last 39 years. Within the very Australian Easter tradition of camping holidays, their own German and unique rituals have evolved. They effortlessly carry out a fixed routine of activities: nest-making for the Easter Bunny's Eggs, an enormous Erbsensuppe (Pea Soup), silly Sunday competitions, a decadent formal afternoon tea and a magical lantern walk on Sunday night.
Started by 14 young German migrants in 1969, three generations have keenly kept these habits up and, amidst a social climate of dying traditions, the youngest seem likely to maintain them. Time is gently explored and danced with through a goldmine of material that conveys traditions and people growing and a landscape changing over 4 decades. Frohe Ostern! (Happy Easter!) is a high-spirited micro-history that celebrates migrants becoming Australians over three generations, and their growing families embracing the German heritage.
---
"This sentimental, intimate family documentary charts the history of the annual get- together, its impact on the families that attend and the German-Australian traditions that are now cherished by all. For many who have spent holidays with the same families over decades, this little film will resonate for its celebration of the simple while also providing a moving insight into the migrant experience. And who knew the piano accordion could be such a versatile campfire musical instrument?" - The Sydney Morning Herald, The Guide, 6 April 2009.
"I like a tradition among family and friends, especially one that encourages hot chips. This is a sweet documentary, chock full of home video, is a story that's at once recognisable and unique." - The Weekend Australian, 4 April 2009.
OFFICIAL SELECTION! FilmFest@Falls, 5-7 June 2009, Falls Creek.
OFFICIAL SELECTION! Globians Documentary Film Festival, Berlin, August 2009
Related files
Permalink: https://www.roninfilms.com.au/feature/477