FIVE SHORT FILMS FROM THE NATIONAL INDIGENOUS DOCUMENTARY FUND
Year: 1997
Classification: Exempt - Ronin Recommends: G
Runtime: 130 min
Produced In: Australia
Directed By: Various
Produced By: Various
Language: English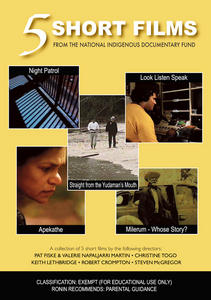 price includes GST and postage

This set of 5 short films is compiled onto one DVD (total length approx. 130 mins). Titles NOT sold separately.
NIGHT PATROL (Munga Wardingki Patu)
Night Patrol is an all-women group who undertake to try to keep the peace in their community. On any given night the patrollers may come across a domestic dispute where they can intervene and attempt some sort of resolution or perhaps transport one of the parties to another place; a gang of petrol-sniffing youths who may be carted back to their parents or simply herded away; a woman who needs to use the women's centre for the night; a drunken local who they may take out to the edge of the city limits for the offender to dry up. This is a documentation of what these women do for their community.
Dir: Pat Fiske & Valerie Napaljarri Martin | Prod: Tom Kantor | 26 mins.
STRAIGHT FROM THE YUDAMAN'S MOUTH
On 1 February 1939, Robert Currie, a white superintendent, was shot and later died at the hands of a Birrigubba man called Peter Prior on Palm Island. Peter is now 91 years old. He tells the story of how his life was shaped. One of few who have survived to give an account of the white man's manipulation of Aboriginal people and culture, Peter's life story reveals a man haunted by these events. He carries the burden of a murder he committed in self defence and ponders the many deaths of Aboriginal people at the white man's hand.
Dir: Christine Togo | Prod: Donna Ives | 26 mins.
LOOK LISTEN SPEAK (Nyawa Kulila Wangka) This documentary examines the social and educational impact that remote community broadcasting has on community members. It aims to educate all Australians about the major role Indigenous media plays in the sharing of information based on fact and how this can bridge the gap between the realities of community life and a lot of misinformation perpetrated in mainstream media about "the poor blackfella".
Dir: Keith Lethbridge | Prod: Neil Turner | 26 mins.
MILERUM - Whose Story? This is a story about Milerum being born into a world full of contradictions where life as he knew it was being torn apart. In the 1930s, Milerum believed that the destruction of his culture was imminent. With great foresight, he decided to preserve much of what he knew. He recorded masses of traditional knowledge with the S.A. Museum. This knowledge, thought to be lost for many years, has found its way to his great-grandchild Robert Crompton, the maker of this documentary.
Dir: Robert Crompton | Prod: Scott McDonald | 26 mins.
APEKATHE
Apekathe follows the story of two Aboriginal women and their families and how they identify with their Aboriginal heritage. Using Priscilla Collins' family as the vehicle, this documentary explores this identity crisis in a contemporary environment. Her family is made up of shades from black to white skin. There is no doubt within the family that they are Aboriginal, but there is doubt in society at large. Maureen McGregor is an Aboriginal from the Daly River region of the Northern Territory. Maureen does not have to contend with sceptical remarks about her identity as she possesses the characteristics and pigmentation of an Aboriginal person. Her children however are fair with red hair. As with Priscilla, these children will grow up to be ridiculed for proclaiming they are Aboriginal. Through this film we show the diversity which makes up the Aboriginal nation of Australia and why there are people with fair skin who call themselves Aboriginal.
Dir: Steven McGregor | Prod: Priscilla Collins | 26 mins.
Permalink: https://www.roninfilms.com.au/feature/475