HIGHER EDUCATION
Year: 2010
Classification: Exempt - Ronin Recommends: G
Runtime: 72 min
Produced In: Australia
Directed By: Miles Roston
Produced By: Miles Roston
Language: English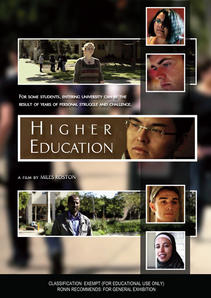 price includes GST and postage

Governments acknowledge that a highly educated workforce is the best way to keep the economy productive and competitive. Yet as governments cut budgets, access to a higher education can become an almost insurmountable challenge, and for those who succeed in gaining entry, drop-out rates are increasing dramatically, especially for students from low socio-economic backgrounds. This film tells the story of seven students – refugees and outsiders who overcome mental illness, state homes, rural poverty, war and genocide to pursue their personal dreams and their aspirations in the world.
Marama, a refugee from Oromia, Ethiopia, is a 19-year-old teacher who witnessed his primary school students being gunned down.
Lucy, a middle class Australian, suffered from depression, but refused treatment, worried about what her peers might think of her.
Raha, an Afghani refugee, found her family persecuted in Iran, and fled to Australia.
Jacob, from a background of rural poverty, grew up with a mother who cleaned houses, dreaming of getting her son into university.
Kristin was discouraged from finishing high school - because of her Aboriginal background.
Contrary to the myth of only rich Asian students going overseas to study, Danny's blue-collar family in Singapore saved for years for university and a better life for their son.
Peter grew up, abandoned into the Australian state care system. His entire possessions were in one box, which he sometimes never even got the chance to unpack before being moved on. Most of his friends ended up in prison or in mental hospitals.
But all of these young people are now attending university in Australia, hoping to make a difference in their own lives, and in the lives of others like them.
Award-winning filmmaker and writer, Miles Roston, was given privileged access to the student body and staff at Monash University in Melbourne - a university which hosts the largest international student body in Australia. Produced entirely independently, the film is a powerful and penetrating insight into the diversity of the student population at Monash, and a disturbing view of the challenges facing access to higher education, especially in the face of government cutbacks.
Miles Roston also directed SIX DAYS IN AUGUST – available on DVD from Ronin Films.
Permalink: https://www.roninfilms.com.au/feature/4714