HOME BY CHRISTMAS
Year: 2009
Classification: Exempt - Ronin Recommends: PG
Runtime: 90 min
Produced In: New Zealand
Directed By: Gaylene Preston
Produced By: Gaylene Preston
Language: English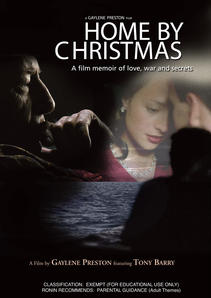 price includes GST and postage

"I grew up after the War and when I was a little girl it felt like there were always three times: there was 'before the War' and 'after the War' and there was another time that was almost like a secret place called 'during the War'. Home by Christmas is part of an investigation I've been making for a long time around that". – Gaylene Preston
A dramatised documentary memoir based on filmmaker Gaylene Preston's interviews with her father about his World War II experiences, reconstructed with actor Tony Barry as Ed Preston. Weaving strands of poetically imagined drama derived from the original interviews, and a rich trove of archival footage, Preston presents both sides of her parents' wartime marriage: the horror and hardship of the war in Africa and Europe, juxtaposed with the loneliness and grief of a young wife struggling with a newborn baby and a husband declared missing.
The filmmaker's father, Ed Preston, was on his way home from rugby practice in 1940, when, on impulse, he joined the New Zealand Army to go to World War II, telling his pregnant wife, Tui, that he'd be home by Christmas. And so he was – four years later. But while Ed was away, Tui fell in love with another man.
Ed's audio recording is brilliantly brought to life by actor Tony Barry, in one of his greatest screen performances. He talks of his hopes of coming home to set up a good life for his family with his army rehabilitation loan. But the reality was harsh: defeat in battle in the Egyptian desert, two years in Italian prisoner-of-war camps and a risky escape through the Alps into Switzerland, all the while missing his loving wife and the baby boy born after he left.
The film complements Preston's earlier film, War Stories (also available from Ronin Films) which explores the experiences of women, including her own mother, during the war years at home.
VIEW TRAILER HERE: vimeo.com/285964468
---
With Tony Barry (Ed), Martin Henderson (young Ed), Chelsie Preston Crayford (Tui)
Written, produced and directed by Gaylene Preston
Executive Producer Nigel Hutchinson
Co-Producer Sue Rogers
Editor Paul Sutorius
Cinematography Alun Bollinger
Original Music Jan Preston
Costume Design Leslie Burkes Harding
Production Design John Harding
Produced by Gaylene Preston Production in association with Midnight Films and Motion Pictures, the New Zealand Film Commission, TVNZ, NZ On Air and The Wellington Company
Related files
Permalink: https://www.roninfilms.com.au/feature/15849