DEADLY YARNS 4
Year: 2009
Classification: Exempt - Ronin Recommends: G
Runtime: 34 min
Produced In: Australia
Directed By: Various
Produced By: Various
Language: English + English subtitles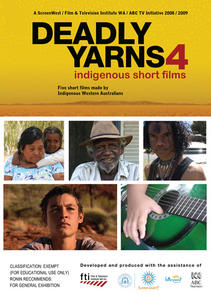 price includes GST and postage

MABUJI (5.09)
Writer/Director: Tyson Mowarin | Producer: Robyn Marais
The legend of a ghost stockman that appears to the stockmen of today whenever they rear cattle. Its about the importance of our ancestors and how their presence is often felt long after they've passed on.
---
MY NAN & THE YANDI (7.40)
Writer/Director: Denise Groves | Producer: Jennifer Gherardi
Amy Dhu is on of few remaining Indigenous women who can Yandy. This documentary is a tribute to her and the women who used this skill to keep their families fed during the decade long 1946 Pilbara Strike.
---
GEORGE & THE NGURRUNGU (6.33)
Writer/Director: David Chesson | Producer: Paul Roberts
A story by Bunaba elder George Brooking and his strange encounter with a peculiar animal.
---
CULTURE CLASH (8.03)
Writer/Director: Dennis Simmons | Producer: Danielle Giles
Bill & Jaedon Smith are an active father & son team until Jaedon receives a old gamebox at a garage sale. Nothing can get between Jaedon and the gamebox until Bill realizes the gamebox is possessed by a spirit taking over his son's soul. Cousin Les steps in to help him out. What follows is a farce as Les brings 2bob the spiritual healing rapper to the house. In trying to rescue Jaedon, Les & 2bob end up being rescued themselves.
---
MUSIC MEN (7.13)
Writer/Director: Jub Clerc | Producer: Eileen Torres
Daniel & David are two musically gifted boys, much like their ancestors, also named Daniel & David. A doco about the similarities between the two generations and how their talents and traits live on through the younger generation.
---
Follow links to other DEADLY YARNS series:
DEADLY YARNS
DEADLY YARNS 2
DEADLY YARNS 3
or buy the complete package - BUY 3 GET 1 FREE - www.roninfilms.com.au/video/819/20/2415.html
Permalink: https://www.roninfilms.com.au/feature/2414