CANTO A LA VIDA: Song to Life
Year: 1991
Classification: G
Runtime: 48 min
Produced In: Australia
Directed By: Lucia Salinas Briones
Produced By: Gina Roncoli
Language: English and Spanish dialogue, English subtitles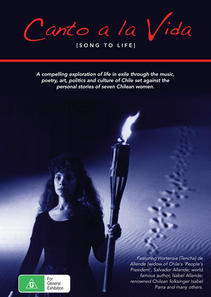 price includes GST and postage

In December 1989, Chile held its first democratic elections since the overthrow in 1973 of the 'People's President', Salvador Allende.
During the sixteen year dictatorship of General Augusto Pinochet, over one million Chileans left Chile to live in exile, not knowing if they would ever be able to return to family, friends and culture.
CANTO A LA VIDA explores the experience of living a life in exile through the stories of seven Chilean women. They include Tencha de Allende, the widow of the murdered President; internationally renowned folk singer Isabel Parra, best-selling author Isabel Allende and artist Gracia Barrios. These women were exiled to Spanish-speaking countries.
Those women who were exiled to European and English-speaking countries, such as Australia and France, faced the problems of dealing with an alien language. Included in these is the film's director, Lucia Salinas Briones, who was exiled to Australia in 1986.
The paintings and the songs of these women are interwoven with their stories, along with archival film, video and super 8 footage to create a visually rich and personal testament of the experience of living without a sense of space and time, displaced from friends and family - everything that is taken for granted as a birthright.
CANTO A LA VIDA is a story of triumph and nostalgia, of voices, music, art, politics and poetry, a personal tribute to the spirit of life, to the strength of holding to one's beliefs and to the courage to survive.
Featuring Hortensia [Tencha] de Allende [widow of Chile's 'People's President', Salvador Allende; world famous author, Isabel Allende; renowned Chilean folksinger Isabel Parra and many others.
Best Documentary - 1991 Australian Film Institute Awards.
Permalink: https://www.roninfilms.com.au/feature/668