BUT WE ARE STRONG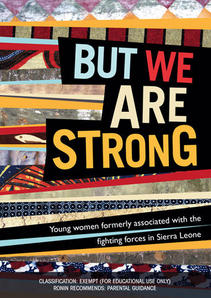 price includes GST and postage

BUT WE ARE STRONG tells the untold stories of five young women who survived Sierra Leone's civil war. This documentary series highlights these young women's strength and their resilience to the horror and atrocities that took place in their home.
War began in Sierra Leone in 1991 when an armed rebel group, the revolutionary united front, began a campaign against the president, capturing towns along the borders. During the eleven years of war, children in Sierra Leone were severely affected. The roles and struggles of young girls during the war in Sierra Leone have not been widely acknowledged.
Many young girls were abducted by rebel groups during attacks on their towns or villages and forced to directly participate in the frontline fighting. They were also forced to provide other services to armed groups. These services included them being forced to participate as cooks, spies and sex slaves.
The war was officially declared over in 2002 following UN intervention and the disarmament of 45,000 fighters.
---
Follow this link to view a trailer of this title along with others for use in support of overseas aid programmes: www.youtube.com/watch?v=hl1yF7wgcL4
---
Permalink: https://www.roninfilms.com.au/feature/506