THAT'S A FAMILY
Year: 2000
Classification: Exempt - Ronin Recommends: G
Runtime: 35 min
Produced In: USA
Directed By: Debra Chasnoff
Produced By: Ariella Ben-Dov, Debra Chasnoff, Fawn Yacker
Language: English
Website: www.groundspark.org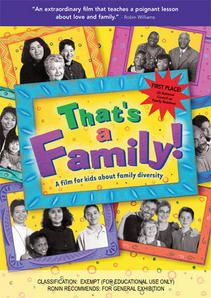 price includes GST and postage

An outstanding American independent documentary – from the makers of the award-winning LET'S GET REAL!
THAT'S A FAMILY! is a highly entertaining documentary that breaks new ground in helping children see and understand many of the different shapes that families take today.
THAT'S A FAMILY! will stretch your mind and touch your heart, no matter what your age. With blunt and sometimes hilarious candour, the children who star in THAT'S A FAMILY! take us on a tour through their lives and speak movingly about their unique family experiences, explaining concepts like 'birth mum', 'mixed race', 'guardian', 'gay and lesbian' and 'stepdad'.
"An extraordinary film that teaches a poignant lesson about love and family."
- Robin Williams.
---
Includes 63-page curriculum guide [supplied on CD with every purchase].
Permalink: https://www.roninfilms.com.au/feature/751