THINK ABOUT IT!
Year: 2008
Classification: PG
Runtime: 53 min
Produced In: Australia
Directed By: Richard and Wendy Friar
Produced By: Richard and Wendy Friar
Language: English
Website: www.thinkaboutitmovie.com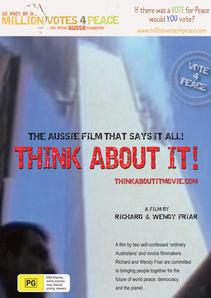 price includes GST and postage

The film helps to 'join the dots' by bringing together in one place crucial information and opinion about what allows tragedies like Iraq to happen; why Iraq went so wrong; and what's going on that makes it so hard to break the cycle of conflict and violence. The film also makes the connection between the Iraqi invasion and the invasion of this country 200 years ago, to understand the generational effects of conflict all over the world that, directly and indirectly, touch us all.
It looks at the ways in which we live our lives and relate to others – from the state-rooms of nations to the board-rooms of corporations, to the lounge-room we share with our family. It looks at how we can move forward, as individuals, to make powerful contributions in united ways with others, locally and globally, towards a more peaceful world.
With humanity at a crossroads, choices have to be made. Climate change and peace building are the two equally important sides of the 'sustainability coin'. Are we going to invest in peace building or war mongering? We need tools to help us involve more and more people into this big, vital conversation about our future.
The fifty hours of interview footage and four years work are jam-packed into a 53-minute film, bringing together the most important things we could be thinking and talking about with friends, family, colleagues and the organsations to which we belong.
There has never been a better, more hopeful, time to 'Think About It'!
---
People appearing in this film include:
David Gulpilil – Indigenous actor and activist
Professor Bob O'Neill – former chair of the International Institute of Strategic Studies
Malcolm Fraser – former Liberal Party Australian Prime Minister from 1975–1983
Peter Garrett – then Shadow Minister for Climate Change, now Minister for the Environment, Heritage & the Arts
Doctor Anas Al TIkriti – former President of the British Muslim Association
Professor John Keane – founder of the Centre for Democratic Studies, London
Dilnaz Boga – investigative journalist and filmmaker, India
Cindy Sheehan – international peace spokesperson, USA
---
'THINK ABOUT IT clearly shows what can be achieved by people who feel passionately about this planet and who believe they can make a real difference for a better way forward. Wendy and Richard Friar have brought together the key issues and the most articulate spokespeople to highlight not just the ills of the world but more importantly what can be done to set matters right. Their film is a profoundly moving piece of filmmaking that has the potential to change attitudes and values. I would recommend this work to anyone who values the longevity of this planet and the benefits of living in peace and harmony with Mankind and the environment. Surely that must include most of us'. - Joy and David Barrow (documentary filmmakers).
Related files
Permalink: https://www.roninfilms.com.au/feature/1048