MPARNTWE - Sacred Sites [from the CAAMA Collection]
Year: 2004
Classification: Exempt - Ronin Recommends: G
Runtime: 24 min
Produced In: Australia
Directed By: Danielle MacLean
Produced By: Danielle MacLean
Language: English and Arrernte language [English subtitles]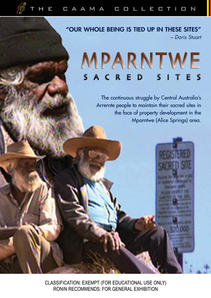 price includes GST and postage

This documentary focuses on the sacred sites in and around Mparntwe (Alice Springs) in central Australia, and the struggle of the Arrernte people to identify, document and preserve these sites in the face of rapid urban expansion and property development.
Max Stuart, Thomas Stevens, Doris Stuart and other Elders talk about the importance of the sites in and around the city in terms of traditional Dreaming. They reflect on their sense of loss as sites are desecrated by urban development. The Caterpillar and Wild Dog Dreamings have many sites of critical importance in the area. Also threatened are the ancient gum trees in the Todd River, many of them of sacred significance and important to ceremony but being damaged by development and by outsiders passing through the area. As Doris Stuart says, "our whole being is tied up in these sites."
The process of negotiation with the government and the city's developers are outlined by Indigenous lobbyist, Peter Renehan. Archival footage documents the hearings leading to the Native Title Act and the recognition of the Arrernte people as the first inhabitants of the Alice Springs area. A new process of consultation and co-operation with the traditional custodians of Knowledge and the Land is beginning to make a difference in terms of the protection of sacred sites.
---
Director, Writer - DANIELLE MACLEAN
Editor - DENA CURTIS
Photography - WARWICK THORNTON
Sound Recording - VANCE GLYNN
Composer - COREY NOLL
Executive Producer - CITT WILLIAMS
Production Manager - RACHEL CLEMENTS
Production Co-ordinator - DENA CURTIS
Narrator - TRISHA MORTON-THOMAS
Permalink: https://www.roninfilms.com.au/feature/6587