Vis a vis TECHNO TRIBAL
Year: 2004
Classification: Exempt - Ronin Recommends: G
Runtime: 52 min
Produced In: Australia
Directed By: Nick Torrens, Phil Lucas, Steven Lawrence
Produced By: Nick Torrens, Steven Lawrence
Language: English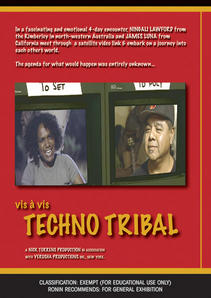 price includes GST and postage

VIS A VIS: TECHNO TRIBAL compares the experiences of Indigenous people in Australia and the USA by linking two charismatic Indigenous artists in these countries through digital satellite video. Ningali Lawford from North-West Australia and James Luna from California use humour and drama to confront prejudices and compare the effects of their mainstream white societies. In Australia the experience of Indigenous marginalisation by the colonising culture is 300 years younger than America. What differences have these 300 years have made to the uneasy co-existence of these cultures? This techno journey is fascinating, surprising and often very funny.
James: "We're taking advantage of this media because for so long we've been spoken about, spoken for, photographed, videotaped ... but you know we aren't the people who are in control ..."
Ningali: "You should see my place ... I've never had reality TV in my house before!"
Related files
Permalink: https://www.roninfilms.com.au/feature/426