WIRRIYA: Small Boy [from the CAAMA Collection]
Year: 2001
Classification: Exempt - Ronin Recommends: G
Runtime: 27 min
Produced In: Australia
Directed By: Beck Cole
Produced By: Citt Williams
Language: Warlpiri Language, English subtitles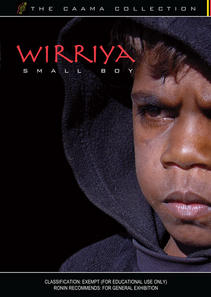 price includes GST and postage

This moving documentary is a record of a few hours in the life of a small 7 year old boy, Ricco, from Hidden Valley, one of the many town camps on the outskirts of Alice Springs. He has lived in the camp for most of his life, and is looked after by his three older sisters and his foster mother, Nanna Maudie.
Ricco Japaljarri Martin is bright, cheeky and adventurous. The film follows his interactions with his nine dogs, and on a routine day at school in Alice Springs where he has classes in Warlpiri language and culture. The next day, however, Ricco plays "hookey" from school with some other children and goes into the town to explore and to play around. At the end of the day, Nanna Maudie expresses her concerns about what the future holds in store for Ricco.
Filmed over a two-month period, the film is narrated by Ricco himself in an intimate, casual style. Beautifully shot and edited, and with an attractive music score, WIRRIYA shows the rich creative potential of the CAAMA documentary group. The film is a non-judgemental and poignant observation of town camp life, and the challenges that lie ahead for the camp residents and for this irrepressible small boy.
---
With RICCO JAPALJARRI MARTIN
Writer/Director - BECK COLE
Producers - BECK COLE and CITT WILLIAMS
Photography - BECK COLE and WARWICK THORNTON
Sound Recordist - VANCE GLYNN
Assistant Editor and Production Co-ordinator - DENA CURTIS
Music composed and performed by - CLIFF BRADLEY
Production Manager - LISA STEFANOFF
---
Follow this link to view a trailer that includes this title and other CAAMA titles: www.youtube.com/watch?v=lFJiiPPT3bg
Permalink: https://www.roninfilms.com.au/feature/2512