QUICK BROWN FOX: An Alzheimer's Story
Year: 2004
Classification: Exempt - Ronin Recommends: G
Runtime: 62 min
Produced In: USA
Directed By: Ann Hedreen, Rustin Thompson
Produced By: Ann Hedreen
Language: English
Website: www.quickbrownfoxfilm.com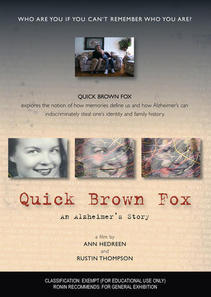 price includes GST and postage

Ann Hedreen's documentary is a gripping personal investigation into her mother's battle with Alzheimer's disease. Ann's mother started showing symptoms of Alzheimer's disease at the barely-old age of 60. Though it started with small signs—forgetting what she was doing and losing her way home—the irreversible disease would change her and her family's lives forever.
This powerful and poetic film combines a moving family journey with an insightful look at the science and politics of Alzheimer's—a disease that now affects more than 18 million people worldwide. Hedreen's uncompromising pursuit of possible causes and potential cures takes her from the copper mines of her mother's childhood home in Butte, Montana to an Alzheimer's research center in Washington where she volunteers as a research subject—with humorous and humbling results. And her fascinating interviews with prominent doctors and researchers offer insight into the fickle politics of funding and recent controversies surrounding stem-cell research. Interweaving super-8 home movies, 1950s medical films and heartbreaking interviews with her family, Hedreen's timely film bravely confronts the disease that has mangled the mind of her once beautiful and brainy mom, and raises profound questions about just how important our memories are.
"This is an important film: for our parents, for ourselves and for all those who stand in the path of this terrible disease." - Ron Reagan.
"Intimate and emotionally intense ... a soul-searching quest to understand Alzheimer's Disease." - The Seattle Times.
Permalink: https://www.roninfilms.com.au/feature/597