LOCAL MAN, A (book)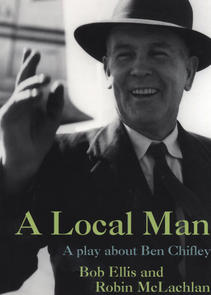 price includes GST and postage
A play about Ben Chifley
by Bob Ellis and Robin McLachlan
Currency Press 2005
Paperback (small)
63 pages
Late in the afternoon of 9 June 1951, Ben Chifley returns to his modest home in Bathurst to write a key speech which he will deliver at the next ALP Conference in Sydney the next day. Having recently led his party to its second defeat at the polls, it's a time of challenge for the labour leader. The dreams Ben Chifley had for post war Australia lie shattered and his health is failing. His life now seems but an epilogue to earlier times of aspiration and power. It is a time for decisions and a time for reflection by Chifley on his life as a national political leader and as a man - a local man. The co-author, Robin McLachlan, was a principal collaborator on the film, THE CHIFLEYS OF BUSBY STREET, available on DVD from Ronin Films.
"This collaboration.... gives us both the history and the man [A Local Man] is a major achievement, welding art and accurate history." - Frank McKone, Canberra Times.
" ... a strong and affectionate monologue that is not mere hagiography, but an affectionate portrait behind the iconic political figure." - Stephen Dunne, The Sydney Morning Herald.
THE CHIFLEYS OF BUSBY STREET, available on DVD from Ronin Films - www.roninfilms.com.au/video/0/40/812.html
Permalink: https://www.roninfilms.com.au/feature/2223