MY NAME IS GULPILIL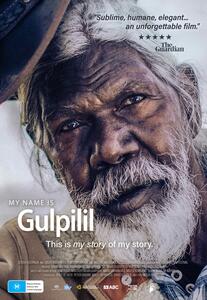 price includes GST and postage
"I'm an actor, I'm a dancer, I'm a singer and also, a painter. This film is about me. This is my story of my story."
- David Gulpilil Ridjimiraril Dalaithngu
NOW AVAILABLE FROM RONIN FILMS FOR COMMERCIAL AND NON-COMMERCIAL SCREENINGS IN DIGITAL FORMATS. For details and prices, please contact Ronin Films on
For DVDs and streaming advice, please visit www.madmanfilms.com.au/my-name-is-gulpilil/
In what was to be his final film, the great Australian actor David Gulpilil faces his own mortality: he is dying of lung cancer.
Holding the camera figuratively in the palm of his hand, David performs directly for whoever might be out there in the future looking at him, to what is for him his final audience. He talks about what it is to stare down death, and what it was to live a life such as he did, a dizzying mix of traditional Aboriginal ways and modern Hollywood excess, and everything in between. It is pure, unmediated and unvarnished David Gulpilil, finally able to say in a film exactly what he wants to say.
He reminisces about his films, and his fame, and the effects of both on a tribal boy from Arnhem Land. He talks about acting, and how his dancing in his own culture is really the basis of what made him famous. And now he looks toward going home, to his own funeral, the specifications of which he's very particular about. Visited by his sisters, including his twin Mary, they plan for his passing.
But life interferes with David's march towards his personal end...in his words, "I should have been dead long time ago!" Despite the diagnoses and the prognostications of finality, birthdays pass and David resolutely refuses to die. In this film he shows what a survivor he is, and how he came to be the living legend we know him to be.
"And this story, it's about me. And no one else can do the life of me, it's only me. I can do the life about me."
- David Gulpilil Ridjimiraril Dalaithngu
VIEW TRAILER HERE: vimeo.com/681691877
WINNER! BEST DOCUMENTARY, AACTA AWARDS!
WINNER! BEST EDITING IN A DOCUMENTARY, AACTA AWARDS!
WINNER! BEST DOCUMENTARY (History), ATOM AWARDS!
WINNER! BEST DOCUEMTNARY (Biography), ATOM AWARDS!
Produced and Filmed on Ngarrindjeri, Kaurna and Andyamathana Lands
Director - Molly Reynolds
Featuring David Gulpilil and Mary Hood, Mary Dhapalany, Evonne Munuyngu, Peter Djigirr
Producers - Rolf de Heer, Peter Djigirr, David Gulpilil, Molly Reynolds
Cinematographers - Maxx Corkindale, Miles Rowland
Editor - Tania M. Nehme
Music & Sound Design - Tom Heuzenroeder
Produced with the Assistance of the Adelaide Film Festival
Financed with the Assistance of the Australian Broadcasting Corporation
Financed with the assistance of South Australian Film Corporation
Filmed with the assistance of Screen Australia
(c) 2021 Vertigo Productions, Adelaide Film Festival and South Australian Film Corporation
Related files
Permalink: https://www.roninfilms.com.au/feature/17764