PETYARRE and ATNANGKERE (Our Cave) (From the CAAMA Collection)
Year: 2016-7
Classification: Exempt - Ronin Recommends: G
Runtime: 40 min
Produced In: Australia
Directed By: Viviana Petyarre
Produced By: Viviana Petyarre
Language: English and Alyaware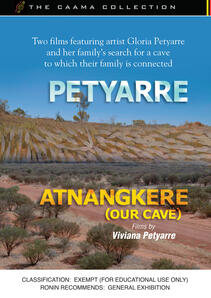 price includes GST and postage

These two related short films were made a year apart in 2016-17, both depicting the search by the artist Gloria Petyarre and her family for a cave that figures strongly in the culture of her people.
The filmmaker, Viviana Petyarre, an Alyawarre woman, is granddaughter and grandniece to three famous artists who were at the forefront of the Utopia Women's Art movement in the 1980s. Viviana grew up with her 'nanas' on the remote community of Alparra, 200kms north-east of Alice Springs. At the age of five Viviana moved to the New South Wales coast with her mother who had taken up a teaching position there. Viviana was separated from extended family and her culture for many years, but she returned to live in Central Australia, and decided to re-connect with her heritage with the aid of her relatives.
For millennia, the Atnangkere Cave has been a Dreaming centrepiece for the Alyawarre people of Atneltye (Boundary Bore), Utopia, north of Alice Springs in central Australia. Atnangkere is the home of Angarte (the Thorny Devil) painted by the famous Petyarre sisters of Atnangkere. In living memory, the hidden cave provided shelter for its countrymen and has even been known to "lift up" to remove them from danger.
Viviana travels deep within the landscape of Atnangkere, but it has been a long time since the women have visited the cave. Will they be able to find it again?
VIEW TRAILER FOR PETYARRE HERE: vimeo.com/376734228
PETYARRE
Director Viviana Petyarre
Producer Tanith Glynn-Maloney
Photography Jono van Hest
Editor Jane St Vincent Welch
Produced by CAAMA Productions with the assistance of the Community Broadcasting Foundation for ICTV (Indigenous Community TV)
ATNANGKERE (Our Cave)
Director, Producer Viviana Petyarre
Photography Ben Deacon
Editor Harry Hayes
Produced by CAAMA Productions in association with NITV
© CAAMA Productions Pty Ltd 2016-7
Permalink: https://www.roninfilms.com.au/feature/16594