PAST IMPERFECT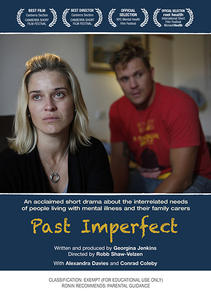 price includes GST and postage

Based on the filmmakers' own experiences, PAST IMPERFECT explores mental illness in the family through a credible and powerful short story. Helena feels responsible for both her ageing and withdrawn mother and her wayward and troubled brother. Her own need for love and understanding are compounded when her mother and brother rekindle the emotional bond that she herself so desperately craves.
With great economy, the drama crystallises the interrelated needs of people living with mental illness and their family carers.
Impeccably written, acted and crafted, with fine attention to visual and aural detail, PAST IMPERFECT is both a provocative discussion-starter and an effective "proof of concept" for a proposed feature film that we can all hope will be produced sooner rather than later. Jenkins and Shaw-Velzen make an impressive team.
---
Director: Robb Shaw-Velzen
Producer: Georgina Jenkins
Writer: Georgina Jenkins
Cinematography: Robb Shaw-Velzen
Composer: Tim Fisher
Sound Design: Tim Duck
Cast:
Alexandra Davies (as Helena)
Conrad Coleby (Ben)
Margaret Sainsbury (Mother)
---
Official Selection, NYC Mental Health Film Festival
Official Selection, Flicks4Change, Los Angeles
Official Selection, Reel Health International Short Film Festival, Monash Health
Official Selection, Byron Bay International Film Festival
Official Selection, Canberra International Film Festival
Best Film, Best Director, Best Screenplay, Best Cinematography, Best Actor, Best Actress - Canberra Section, Canberra Short Film Festival
Permalink: https://www.roninfilms.com.au/feature/14072