BEYOND THE ROYAL VEIL
Year: 2003
Classification: Exempt - Ronin Recommends: G
Runtime: 52 min
Produced In: Australia
Directed By: Catherine Marciniak, Sarina Singh
Produced By: Sharyn Prentice
Language: English subtitles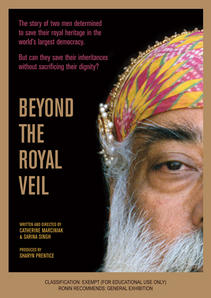 price includes GST and postage

Only two generations ago, India was divided into hundreds of feudal kingdoms, each ruled by its own extraordinarily powerful royal family. Even under British rule, the Princes of India had the power of life and death over their subjects.
But their lives changed dramatically when India became an independent democracy. Many of the ancient palaces were sold and today much of India's royal history is in a tragic state of disrepair.
BEYOND THE ROYAL VEIL takes us into the lives of two men who have resisted selling out: Shriji Arvind Singh Mewar of Udaipur and the Yuvraj (Crowned Prince), Digvijay Sinh of Wankaner. Unlike many of their Princely peers, these men continue to live in their ancestral homes and take very seriously the responsibility of saving the legacy of their ancestors.
Through the lives of these two men and their families, BEYOND THE ROYAL VEIL takes us behind the lavish facade of Indian aristocracy into previously inaccessible sections of some of the oldest and most spectacular palaces on earth. We accompany Shriji Arvind Singh Mewar and the Yuvraj, Digvijay Sinh, in their quest to preserve their cultural heritage and traditions.
Related files
Permalink: https://www.roninfilms.com.au/feature/776