WASTE NOT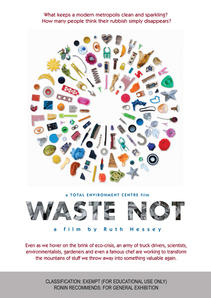 price includes GST and postage

Please note: Price on application for government agencies and private companies
---
Waste Not is a film about where your garbage goes, who sorts it for you, and what it is worth if it isn't just tossed into landfill. It's easier and cheaper to retrieve gold from old computers for instance, than to dig it up. Organics can be used to create fertiliser and green electricity and yet each Australian sends half a tonne of food waste to landfill each year where it is contaminated with chemicals and e-waste. We recycle only 50% of all our waste.
There is an alternative to environmental apocalypse and we don't have to wait for the politicians to make it happen. All we really need to do is be creative and use our imaginations to turn this waste into wealth again. Waste Not talks to scientists, workers at waste depots, environment campaigners, gardeners and even a famous chef about how easy it is to save the planet by simply recycling properly. Waste Not looks at the big picture as well as the small: our entire society could be reconfigured if we adopted a zero waste, maximum efficiency economic model. Waste Not introduces us to Michael Mobbs and his inner city Sustainable House, Luke Powell the head chef at Tetsuya's legendary restaurant and a passionate composter, James Bradfield Moody, the head of development at the CSIRO, Jeff Angel, executive director of the Total Environment Centre, and half a dozen more.
---
The emotional punch of Waste Not has elicited a strong response from councils, and the corporate and education sectors, as well as local community groups. The film has been accepted in prestigious film festivals in Australia and Europe and won "Best Documentary" at St Kilda Short Film Festival 2011, as well as "Highly Commended" at Flickerfest International Short Film Festival 2011.
The film's goal is to inspire hope, to create that light bulb moment, and motivate people to change the way they think and act. High production values, and feature film creatives, including the celebrated composer Peter Fenton, were employed to make the film's message compelling and seductive.
---
Nominated for BEST ENVIRONMENTAL FILM - 2012 Byron Bay Film Festival
BEST DOCUMENTARY - 2011 St Kilda Film Festival
HIGHLY COMMENDED - FLiCKERFEST 2011
---
To view the trailer of WASTE NOT, follow this link: www.youtube.com/watch?v=x7SPmtYJIdw
---
FOR MORE INFORMATION ON RECYCLING AND CAMPAIGNS
www.tec.org.au
Related files
Permalink: https://www.roninfilms.com.au/feature/5454