ALGORITHMS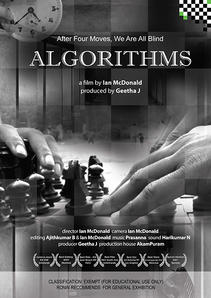 price includes GST and postage

DVD includes optional audio commentary for the blind plus additional scenes and a short film, SeeScapes by J. Geetha.
---
WINNER! Best Documentary Feature at the first ever International Film Festival of Persons with Disabilities, Delhi, India (December 2015)
Filmed over three years, this remarkably elegant and engaging documentary follows three talented boys from different parts of India: Darpan from Baroda is totally blind, Sai Krishna from Chennai is going blind, and Anant from Bhubaneshwar is totally blind. Then there is Charudatta Jadhav from Mumbai. Chess saved him when he went totally blind in his teens and he now wants every blind child to play chess. Over the three years, the three boys grow into young men. They develop their chess game as Charudatta analyses their game, strategises for them and motivates them onwards.
Algorithms travels with the chess players to competitive tournaments and visits them in their home milieu where they reveal their struggles, anxieties and hopes. Passion and preparation for chess has to be balanced with the demands of academic studies for that alone can fetch a job. As the film moves through the algorithms of the blind chess world, it challenges the sighted to consider what it means to see.
---
"Once in a while, a film comes along that can surprise with the elegance it evokes through simplicity. For telling a simple, moving story that delivers us, right from the outset, into the thick of the extraordinary universe of a handful of blind boys dreaming of becoming International Grand Masters in chess; for its fluid narration of the practical barriers they need to overcome and the enabling human bonds that mitigate their disability; for taking us close to a demonstration that fingers can 'see'; for its dispassionate humour in noting the tensions of the sighted as against the restraint of the sightless players; and for magically and incrementally evoking deep emotions out of singularly non-narrative material rendered in the fluent abstraction of B&W, the Jury picked Algorithms, from India, by Ian McDonald. The Jury also felt compelled to remark on the grace and near balletic finesse of the camera-work that, throughout, hardly seemed intrusive and the seamless editing that gave the film a poetic quality".
- Sadanand Menon, distinguished writer and art critic, and Jury chair, Film South Asia
---
"There are very few pieces of art that take you in and let you absorb the art as a quiet, intense observer within. In Algorithms it is the air, light, sound, breath, silence, movement, stillness, language and life itself that envelops you. You are within and even you don't know you are. There are so many layers to the individuals and their lives. We will interpret the thoughts of the boys, coaches, parents and the environments based on what we have experienced in life. The beauty is that every interpretation is true. It is extraordinary that Ian McDonald has let us into this special chess world with no barrier in between, yet there is no intrusion. This is a documentary film that respects every moment of the lives of the chess players, their coaches and parents. When they speak to the camera it is only an articulation of their thoughts and not an answer to a question. It is a delicate film that lets you feel every nuance as it happens, even before it happens and stays with you long after the film ends. It is intense not because the subject compels you to be moved. In fact the movie does not ask you to cry or feel sorry for the blind. Algorithms teaches you to be 'alive'. That is indeed rare".
- T.M. Krishna, Karnatik vocalist and author
---
BEST FILM - Film South Asia, Kathmandu
BEST FILM - ICH, Jean Rouch International Film Festival, Paris
BEST DOCUMENTARY - La Femme Film Festival, Los Angeles
BEST STORY - Krasnogorski IFSF, Moscow
AUDIENCE AWARD - RAI International Film Festival, Edinburgh
BEST EDITING - MIFF, Mumbai
Special Mention - DIFF, Durban
Permalink: https://www.roninfilms.com.au/feature/12054