MURAL, THE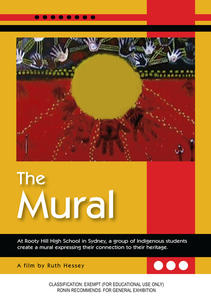 price includes GST and postage

THE MURAL was created by a group of Indigenous students at Rooty Hill High School in Sydney's western suburbs, while working with writer-director Ruth Hessey who spent two years with the group. Ms Hessey was employed by the school to design and implement a filmmaking course with the aim of exploring the students' Indigenous heritage and what it meant to them. The student population of Rooty Hill High School is multi-ethnic and multi-layered – so part of the journey was to explore Aboriginal identity in the context of many other cultural influences.
The project began when the students were commissioned to create a mural, to hang in a prominent part of the school. This inspiring short documentary follows the creation of the final artwork and the many issues it raised as they worked with Ms Hessey and their art teacher Mark Kraviatz. There were many spirited discussions in class as well as experiments in the playground, and a pivotal trip to the Indigenous section of the Art Gallery of NSW. The group also enjoyed visits from successful Indigenous filmmakers, including director, Darlene Johnson. and cinematographer, Murray Lui.
During the course of the filming the students spoke frankly and with much good humour about their experiences. They also planned and executed a media launch for the unveiling of the mural that was attended by staff, relatives and local media.
"THE MURAL had a profound effect on the students involved." - Chris Cawsey, principal, Rooty Hill High School.
"The time I spent at Rooty Hill High School was one of the best experiences of my life – I learnt so much from the dedicated teachers and the students were a joy." - Ruth Hessey.