YOUNG TREE GREEN, THE
Year: 1998
Classification: Exempt - Ronin Recommends: G
Runtime: 55 min
Produced In: Australia
Directed By: Bridget Goodwin
Produced By: Bridget Goodwin
Language: English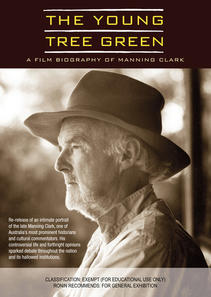 price includes GST and postage

Professor Manning Clark was a vocal advocate of the need for Australia to be independent and to develop its own culture. He began writing volumes of The History of Australia when it was unfashionable for Australians to appreciate, or recognise, anything as distinctly Australian and in his later life he was a prominent advocate of an Australian republic.
Clark described "The Old Dead Tree and The Young Tree Green" as an image that represented Australia's need to break away from antiquated British culture and strike out on its own. The "Old Dead Tree" was England's declining imperialism and the "Young Tree Green" represented Australia and those Australians who tried to generate what Clark called an Australian sentiment.
Part of this philosophy was his flirtation with the political left, in its moves against established tradition and its efforts to achieve different social structures. He had many friends in the left and had been labelled a "great radical thinker" himself. It was this aspect of Clark's persona that provoked attacks from conservative governments. However, while Clark has been seen as being aligned with the left, his intellectual roots were conservative.
This documentary explores many such contradictions in Clark's life. He was a very influential historian, but was attacked by academics both during and after his death. He was a great media performer and excited the Australian populace using the vernacular to convey history, but was criticised as a showman. He worked hard to promote Australia, but has been accused of spying.
This biography encompasses many of these elements and includes archival interviews with Clark as well as original interviews with his associates and critics.