LET'S GET REAL
Year: 2003
Classification: Exempt - Ronin Recommends: PG
Runtime: 35 min
Produced In: USA
Directed By: Debra Chasnoff
Produced By: Debra Chasnoff, Helen S. Cohen, Kate Stilley
Language: English
Website: www.groundspark.org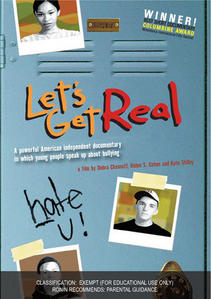 price includes GST and postage

With amazing courage and candour, students discuss racial differences, perceived sexual orientation, disabilities, religious differences, sexual harassment and more.
From the youth who are targeted, to the students who pick on them, to those who find the courage to intervene, LET'S  GET  REAL  examines bullying from a wide range of perspectives. This poignant film aims to educate audiences of all ages about why we can no longer accept name-calling and bullying as just a normal part of growing up.
When used with students, LET'S  GET  REAL has inspired honest dialogue that establishes an awareness about their own roles in society and what they can do to prevent prejudice and to promote understanding.
---
"Riveting ... Though much has been written and produced on bullying, what sets LET'S  GET  REAL  apart is the students' voices ... They are impossible to ignore." - San Francisco Chronicle.
---
Includes chapter-by-chapter version of the film corresponding to 125-page curriculum guide [supplied on CD with every purchase].