LOVE-HEART BABY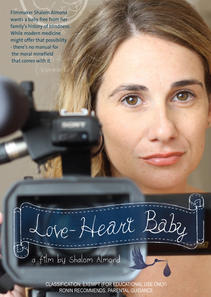 price includes GST and postage

Five years ago filmmaker Shalom Almond found out she had inherited an eye disease from her mum Brenda called Retinitis Pigmentosa or RP, which leads to adult blindness.
Now that Shalom and her husband Osker want to have a baby, years of seeing Brenda struggle with the disease means they would do anything to stop passing RP on to their child.
They decide to try a type of IVF called Pre-implantation Genetic Diagnosis or PGD, a procedure that can help screen for genetic diseases. But the process is so stressful, expensive and morally confusing, Shalom begins to question whether they chose the right path after all. She heads out to find some answers, but what she's looking for might be closer to home than she imagined.
Related files