IT'S ELEMENTARY
Year: 1999
Classification: Exempt - Ronin Recommends: PG
Runtime: 77 min
Produced In: USA
Directed By: Debra Chasnoff
Produced By: Debra Chasnoff, Helen S. Cohen
Language: English
Website: www.groundspark.org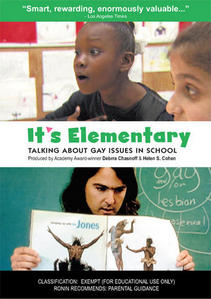 price includes GST and postage

It's Elementary takes cameras into classrooms  to look at one of today's most controversial issues - whether and how gay issues should be discussed in schools. Hailed as "a model of intelligent directing" by International Documentary Magazine, the film makes the case that all children are effected by anti-gay prejudice and that adults have a responsibility to address it. Showcasing teachers leading non-judgmental discussions with students about gay and lesbian people, the film demonstrates that students are eager to have honest conversations and learn about differences and respect.
An outstanding American independent documentary from the makers of the award-winning "LET'S GET REAL!".
---
"IT'S  ELEMENTARY is the most important film dealing with LGBT issues and safe schools ever made." - Kevin Jennings, founder and executive director, Gay, Lesbian and Straight Education Network.
---
"Smart, rewarding, enormously valuable..." - Los Angeles Times.
---
Includes 142-page curriculum guide [supplied on CD with every purchase].