LONG WALK HOME, THE
Year: 2011
Classification: Exempt - Ronin Recommends: PG
Runtime: 62 min
Produced In: Australia
Directed By: Antony Cirocco
Produced By: Antony Cirocco
Language: English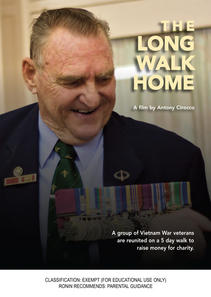 price includes GST and postage

A group of Vietnam War veterans are reunited on a 5 day walk to raise money for charity.
This documentary follows the 5 day journey of a group of Vietnam War Veterans through the spectacular Flinders Ranges of South Australia. Along the way they collect money for charity. The walk however is more than that: it's a chance for veterans to talk, to share their stories, to find old friends, and remember the fallen. This film is a story that documents the journey of veterans who have returned but maybe have not as yet come home.
THE LONG WALK HOME was a labour of love for filmmaker Antony Cirocco, his first documentary as director-producer, after extensive experience as a cinematographer. Wanting to find out more about Post-Traumatic Stress Disorder, and why Vietnam veterans were so affected by this problem, Cirocco became determined to take on a project for which no funding was available. "I learnt that there is plenty of money for celebrating valour (as there should be), to erect monuments and host events, but when it comes to making films about PTSD and disaffected Vietnam Vets ... all doors were closed.
"In the time I spent with the Vets on the road all the stereotypes were smashed: I found them all to be polite, fun and intelligent - rat-bags with a fantastic sense of humour and spirit and with a very genuine story to tell. They embodied the very essence of patriotism, care, goodwill and decency, in stark contrast to they way they were portrayed by many in the Australian community and media on their return from Vietnam."
---
Follow this link to view THE LONG WALK HOME trailer: www.youtube.com/watch?v=9_DV0w9SlTc&list=UUSqan_EgPVcRlIbhv3v45UQ&index=1&feature=plcp