BIRDMAN - the art of William T. Cooper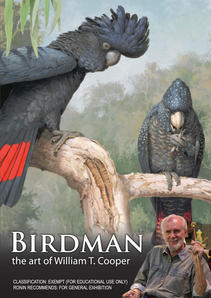 price includes GST and postage

William T. Cooper (Bill), is a world-renowned wildlife artist; some say the best in the world. From his Far North Queensland home he takes us on a journey as he begins the difficult task of creating 30 new exquisite works for his final exhibition. Along the way he shares his techniques and process that go into creating the finished paintings. Keen to share what he has learned over his long professional career, the audience will come to understand the evolution of the artist and his dedication to perfection.
Inspired at a very young age by John Gould's massive volumes of ornithological work, Bill spent much of his own life watching, drawing and painting birds. He hoped one day to do as Gould had done.
As a budding artist in his hometown of Newcastle, and already winning awards, he accepted advice along the way from other local artists such Sir William Dobell. Bill started his professional career as a land and seascape painter until a public interest arose in wildlife, allowing him to return to his great love, birds. At last there was a demand for large volumes of ornithological work that allowed him to paint what he had dreamed of as a child.
Over the last 50 years of painting professionally he has evolved into the modern day Gould with a massive volume of published works developed alongside leading ornithologists. Many of these have had multiple re-prints and have become collector's items.
His attention to detail has made his work some of the most widely acclaimed by scientist and art appreciators across the world. David Attenborough describes him as "The best ornithological illustrator alive."
With a reputation for accuracy and perfection to uphold, and a personal mantra that each new work must be better than his last, completing works to his personal high standard is no easy call for the 80 year old artist. Over the next 15 months he is under pressure to create his best pieces.
The film culminates in an exciting exhibition held at the Morpeth Gallery where his last exhibition sold out in seventy minutes. But he wonders if times have changed and will anybody come?
Over the last 20 years Bill's reputation has risen to the extent that this exhibition is guaranteed to be a success; perhaps the only problem being, creating enough works in time, and also for the buyers as they scramble to acquire his highly collectable art. This will be his last exhibition.
The DVD includes 9 micro-stories that include techniques, tips and approaches that Bill Cooper uses to create a unique piece of artwork.