| | |
| --- | --- |
| Tuesday 31 July 2012 - 110th anniversary of the Mt Kembla mine disaster | |
24 July 2012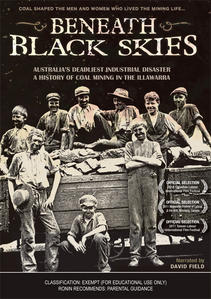 Tuesday 31 July 2012 is an important date for the mining community in the Wollongong region: it's the 110th anniversary of one of Australia's most disastrous mining accidents, when 96 men and boys died in a huge underground explosion at Mount Kembla.

The story of the disaster is detailed in the documentary BENEATH BLACK SKIES which explores the history of mining in the Illawarra region, south of Sydney. This striking film includes vivid re-enactments, interviews and archival material, and is a model of its kind: both information-rich and inspiring. It is a credit to its filmmaker, Sandra Pires, herself from the Wollongong area.

For those in the vicinity, there is a special public screening of BENEATH BLACK SKIES at the heritage-listed Mt Kembla Hotel at 8pm on Tuesday 31 July. All are welcome!